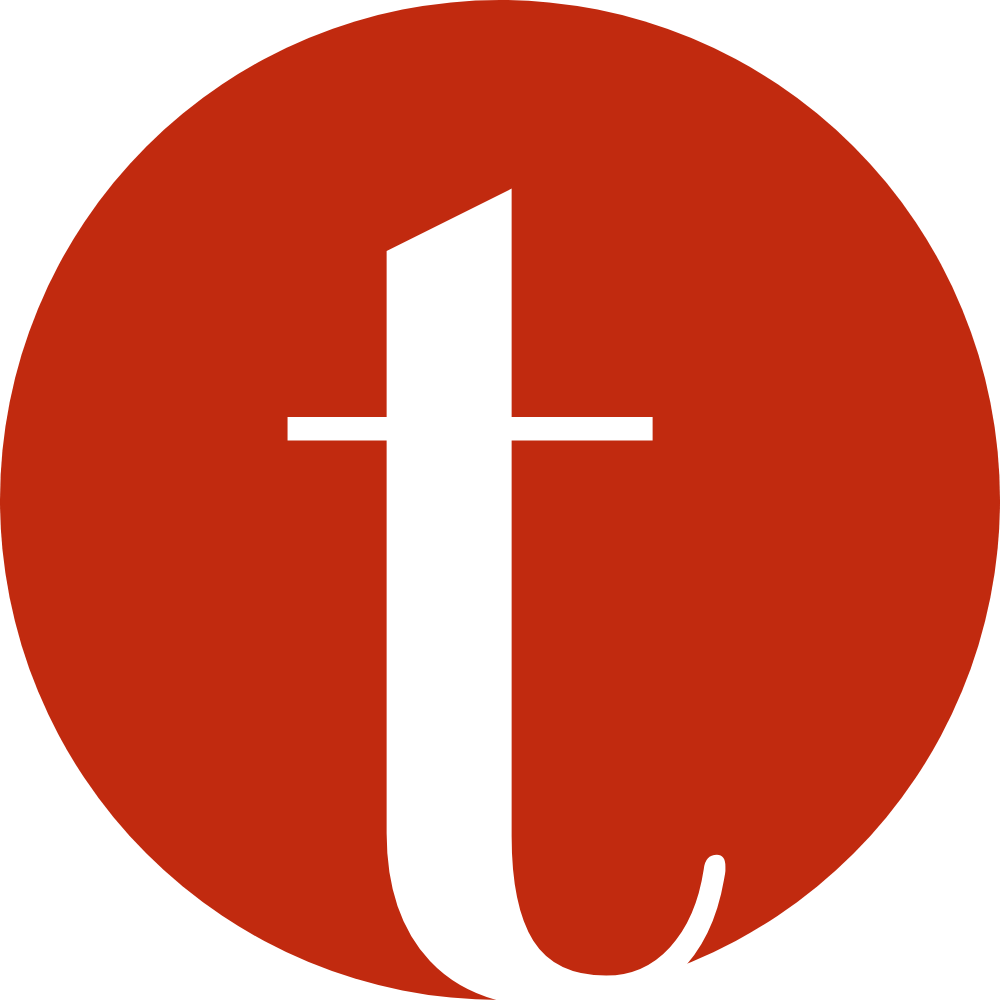 The Long Distance Relationship
A mobile application that brings long distance couples closer together.
Overview
Project Brief
This project was completed on Valentines day as a part of a Protothon, a UX Hackathon, hosted by DubsTech. This Protothon entailed conducting user research, creating wireframes, and building a prototype in less than 24 hours.
The Challenge
Envision an experience that provides a fun engaging virtual valentine's day experience for long distance couples bringing them closer together by heart.
The Problem
Long distance relationship couples find it difficult to schedule time for one another which leads to a feeling of irrelevance in their relationship. They seek new and fresh activity ideas to create a spark of excitement and intimacy with their partner.
The Goal
The objective was to create a virtual environment that encouraged couples to plan dates and interact with one another.
My Team
My team members from across the globe included,
My Role
My UX Designer role collaborated with other designers to conduct user research, create style guidelines, sketch wireframes, build a prototype, and curate a slide deck presentation. I led my team in creating user personas, created our color pallette, and designed the scavenger hunt high-fidelity wireframes that would later inform the final prototype.
Research / Observe
Stage One - Empathize
Surveys
Our first stage in the process began with surveying people who have been in or are currently in a long distance relationship at the time of surveying.
We created our virtual survey with Google Forms and distributed the survey link over various social platforms — reddit, Slack, Discord, Instagram, and Facebook. This strategy was aimed at getting as much feedback from people on their experiences with long distance relationships in a short period of time.
17 respondents filled out our survey within our five hour time frame.
Through our survey results, we found that our respondents between the ages of 18-32 communicated with their partner daily by phone.
Affinity Mapping
For our qualitative survey questions, we used affinity mapping to organize research and allow our team to synthesizing information into groups. We kept our groupings for each question under 10.
This took us two hours to write and sort our results within Miro.
Key Findings
Different time-zones led to difficulty scheduling time for each other.

Couples found it difficult to come up with new and exciting date night ideas.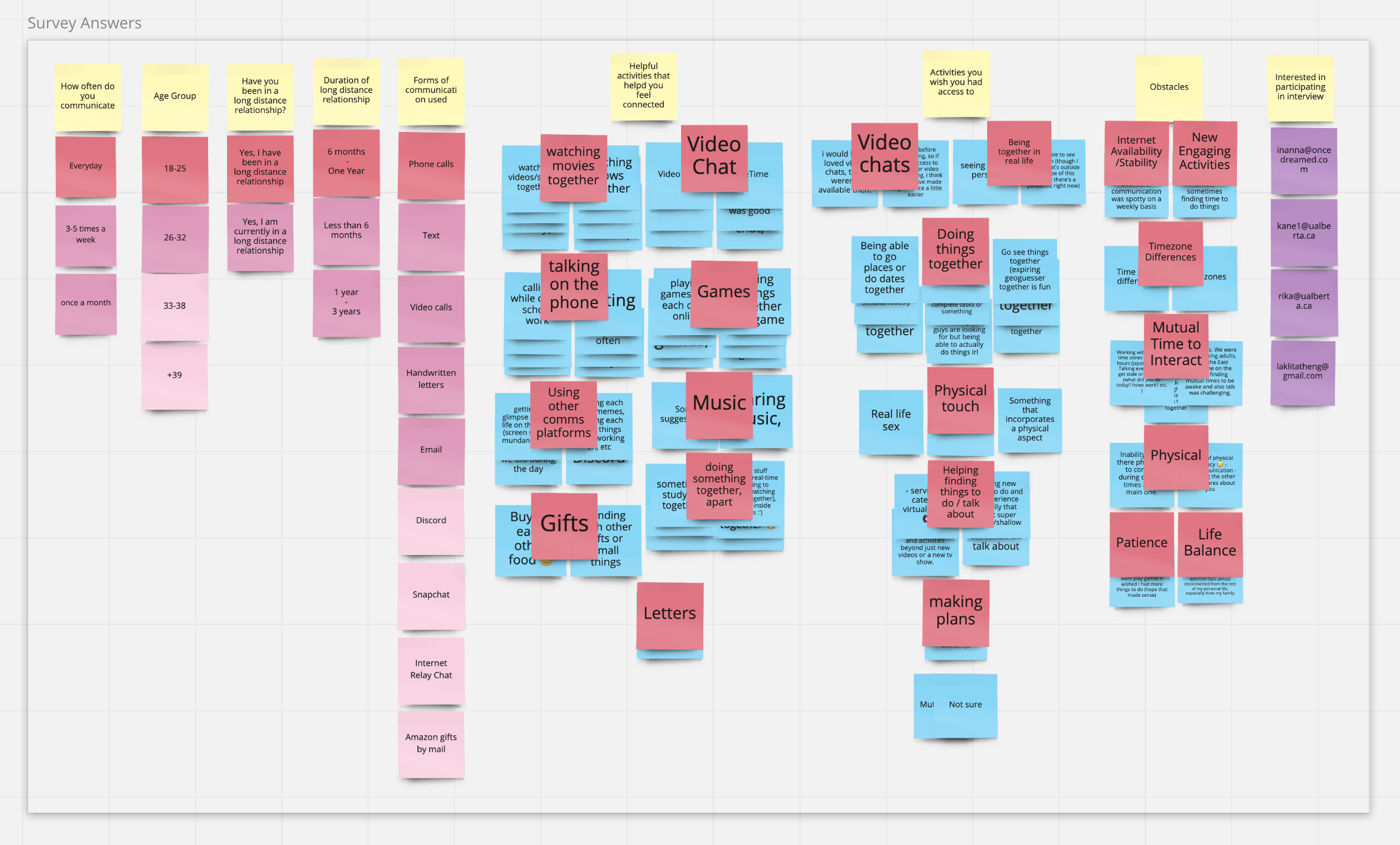 Hypothesize
Stage Two - Define
Hypothesis
We believed that creating a mobile application that enabled long distance relationship couples to show their schedules side-by-side, offers a unique video chat experience that displays questions to elicit joyful conversations, and a scavenger hunt that encourages playful contest would minimize the stress of coordinating and planning engaging dates.
Persona Hypothesis
Based on the survey results we set up five user personas. We referred to them throughout the entire product development process.
Our user personas gave the team an idea for who would ideally be using this mobile application. Eliciting empathy for our users as we discussed our "How might we..." prompts, color palette and font selections, and the wireframe designs that later informed the final prototype.
We wanted the application to be as inclusive and diverse as possible so we included polyamorous couples and gender pronouns in our personas. The design of the home screen has an alternative design that allows for multiple partners to be displayed.
How Might We Questions
How might we help long distance couples feel relevant to their significant other?

How might we help long distance couples stay connected even with different time-zones?

How might we help long distance couples find/discover activities to do together?

How might we help long distance couples plan time together while keeping a life/relationship balance?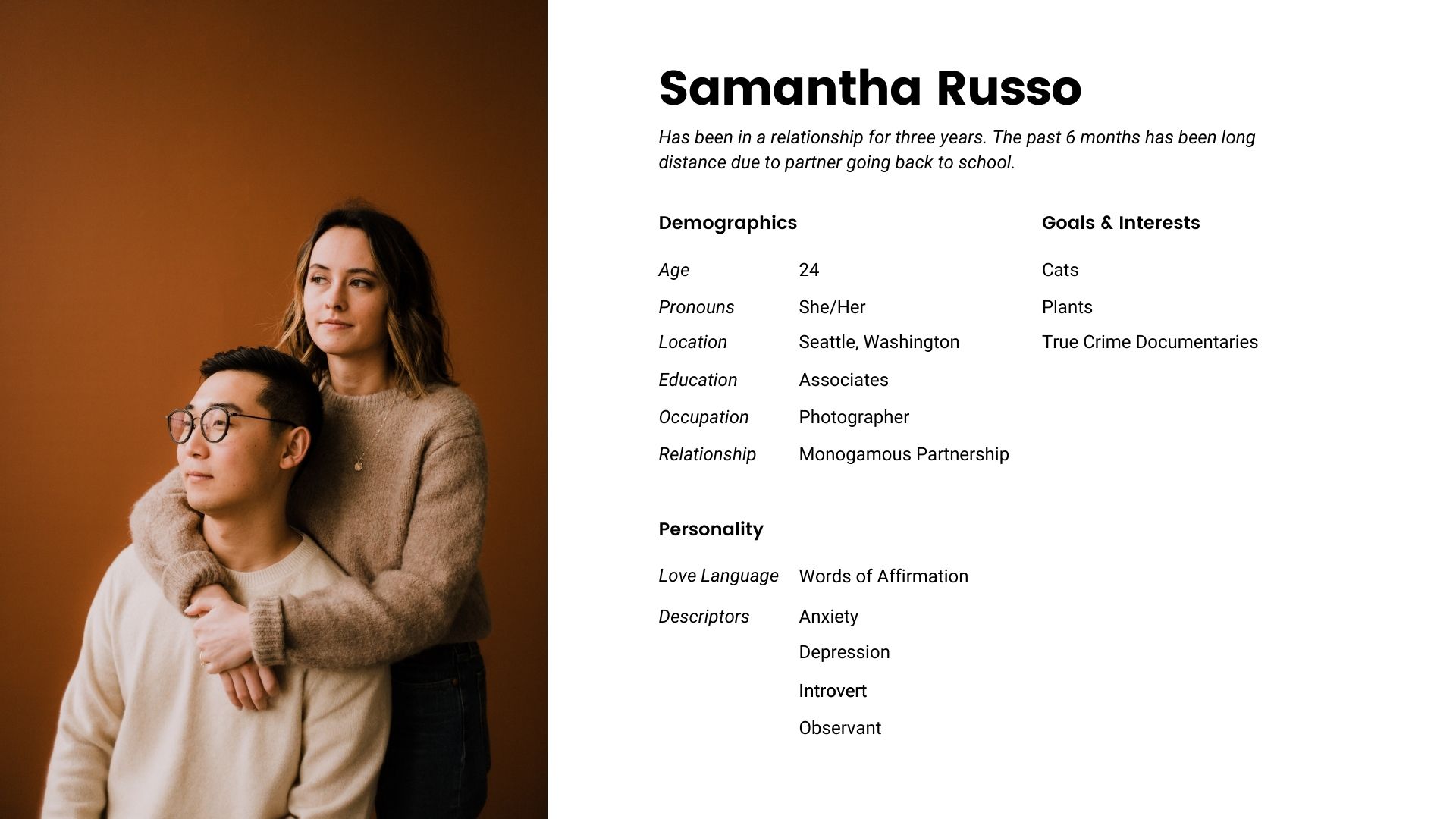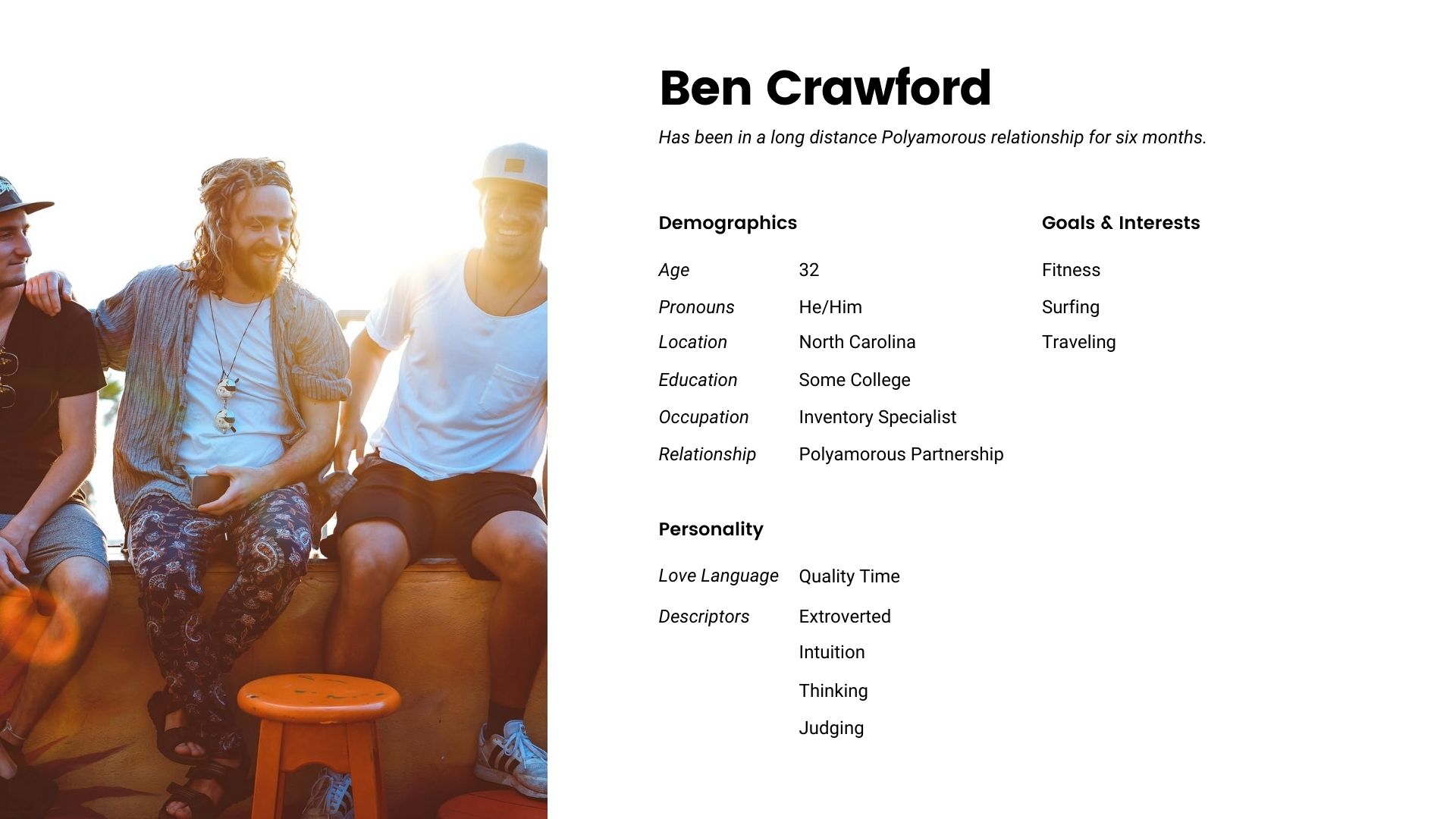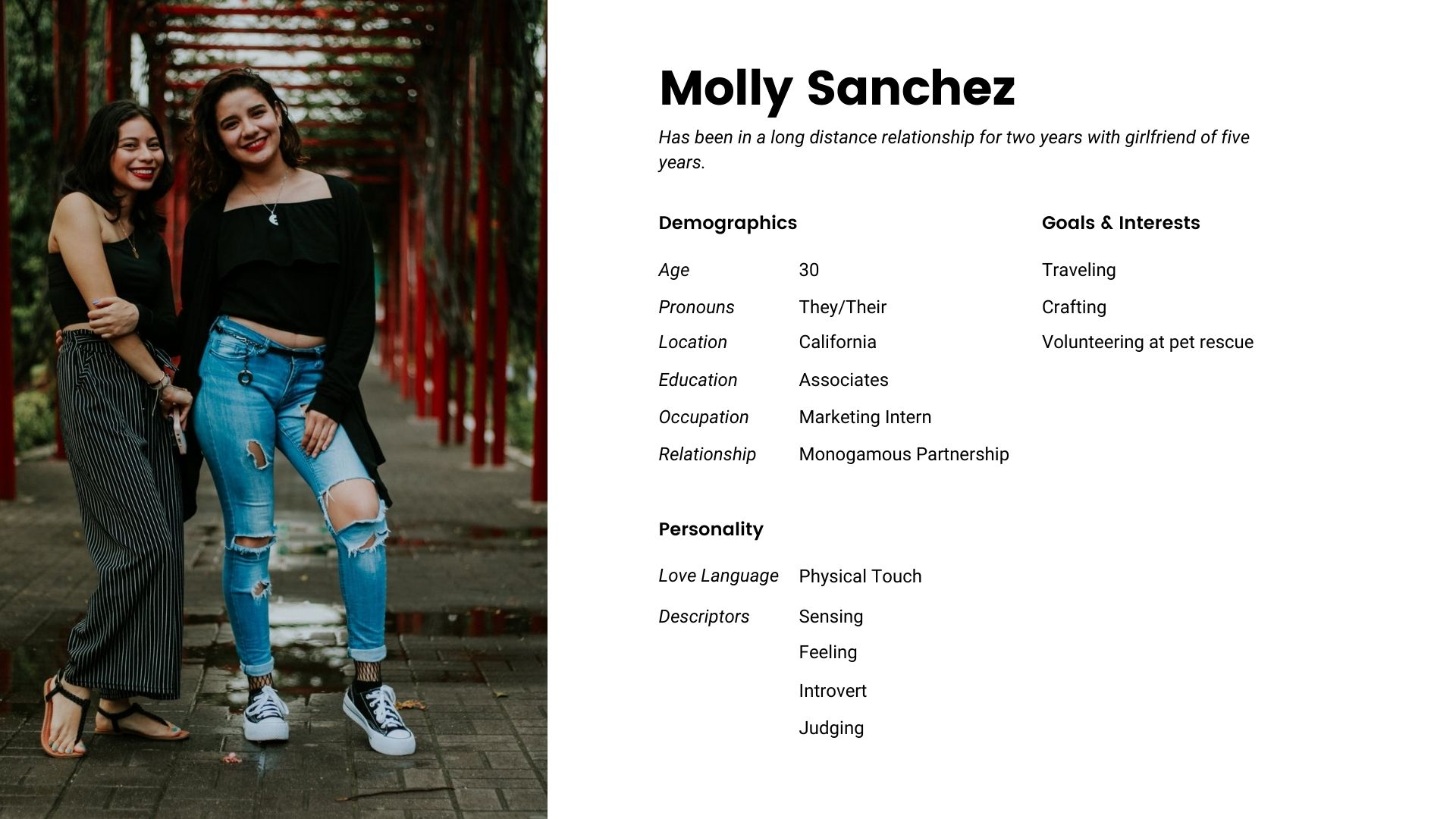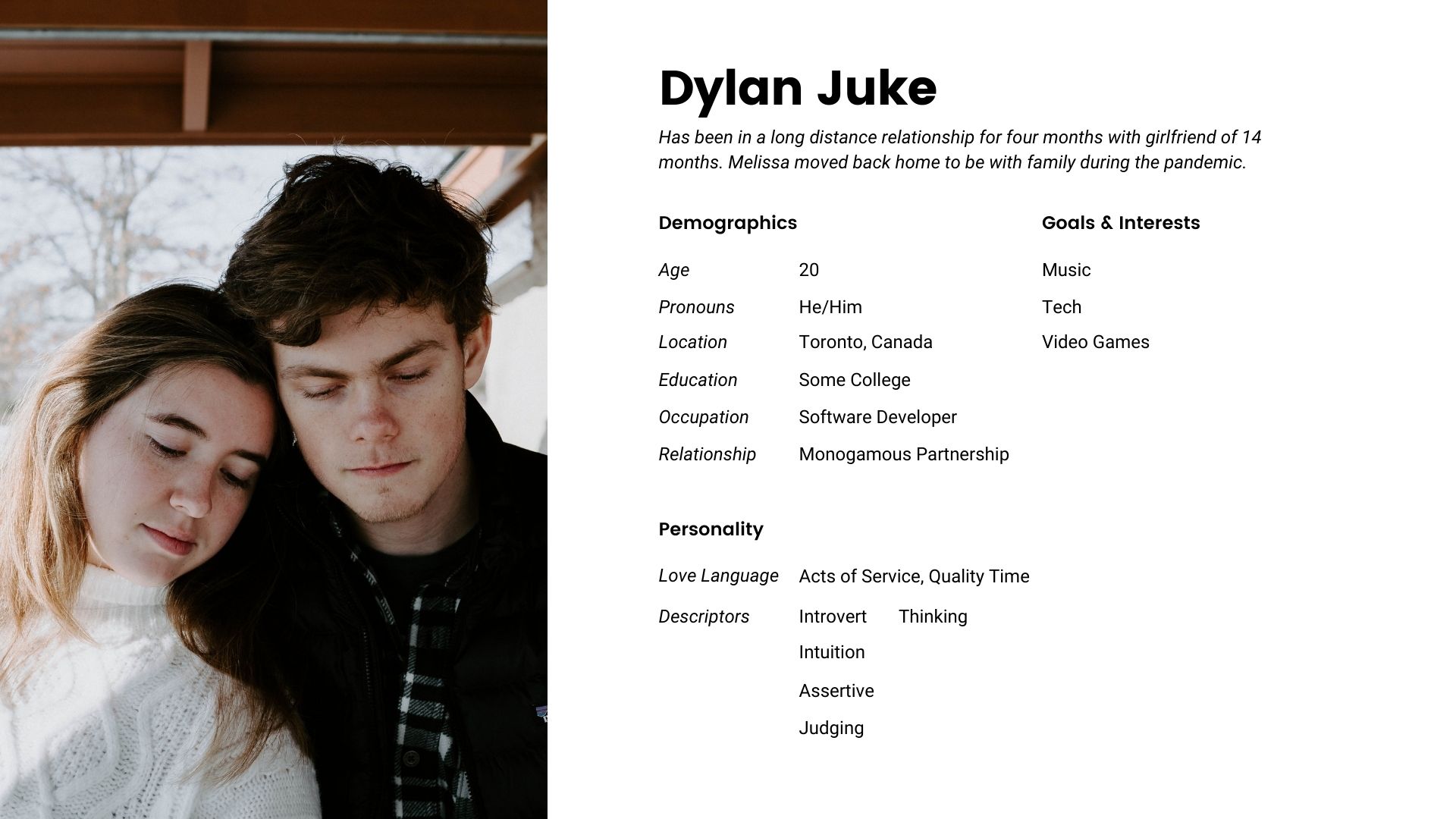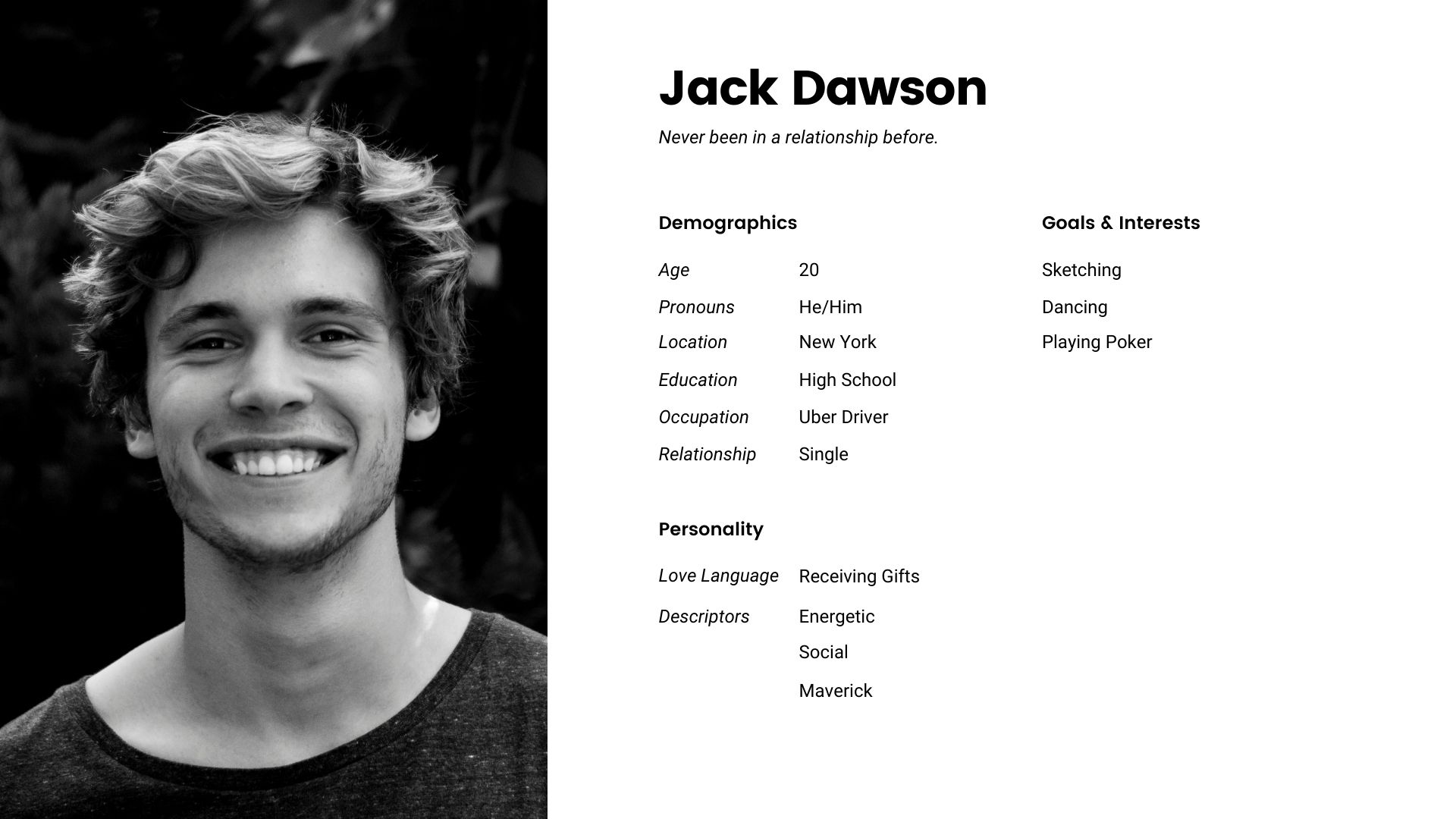 Ideate
Stage Three - Ideate
Braindumping
Individually, we wrote functionalities that we thought filled the needs of our couples — outlined in the How Might We questions. No idea was too grand, ridiculous, or wrong.
Brainstorming
As a group, we discussed everyone's braindump and sorted our ideas into a few select categories,
Activities

Time Management

Gifts

Status

Music

Movies

Wildcards
Wireframes
Moving forward with low fidelity wireframes, each member sketched out their own idea for our key screens and uploaded them to our Miro board for a team review. The low-fidelity wireframes gave us the flexibility to quickly get our ideas on paper. While Miro allowed us to collaborate and discuss our ideas virtually.
Each wireframe was discussed to assess the wireframes moments of opportunity or inopportunity. On our second iteration, we felt confident enough to move forward with high fidelity wireframes. Here, each member was assigned to one of our seven key screens to create a low-fidelity wireframe, within Miro, that informed the future prototype screens.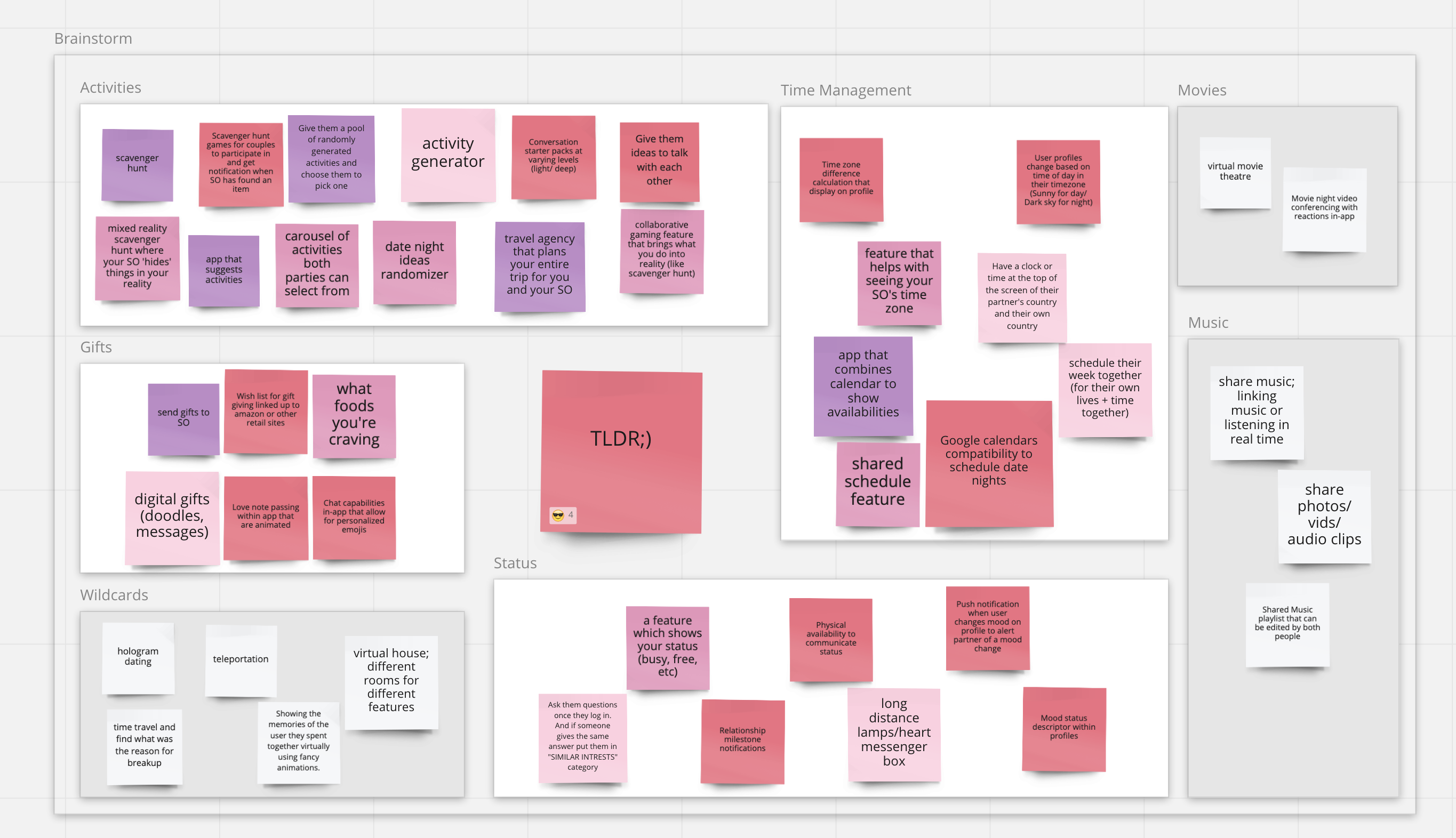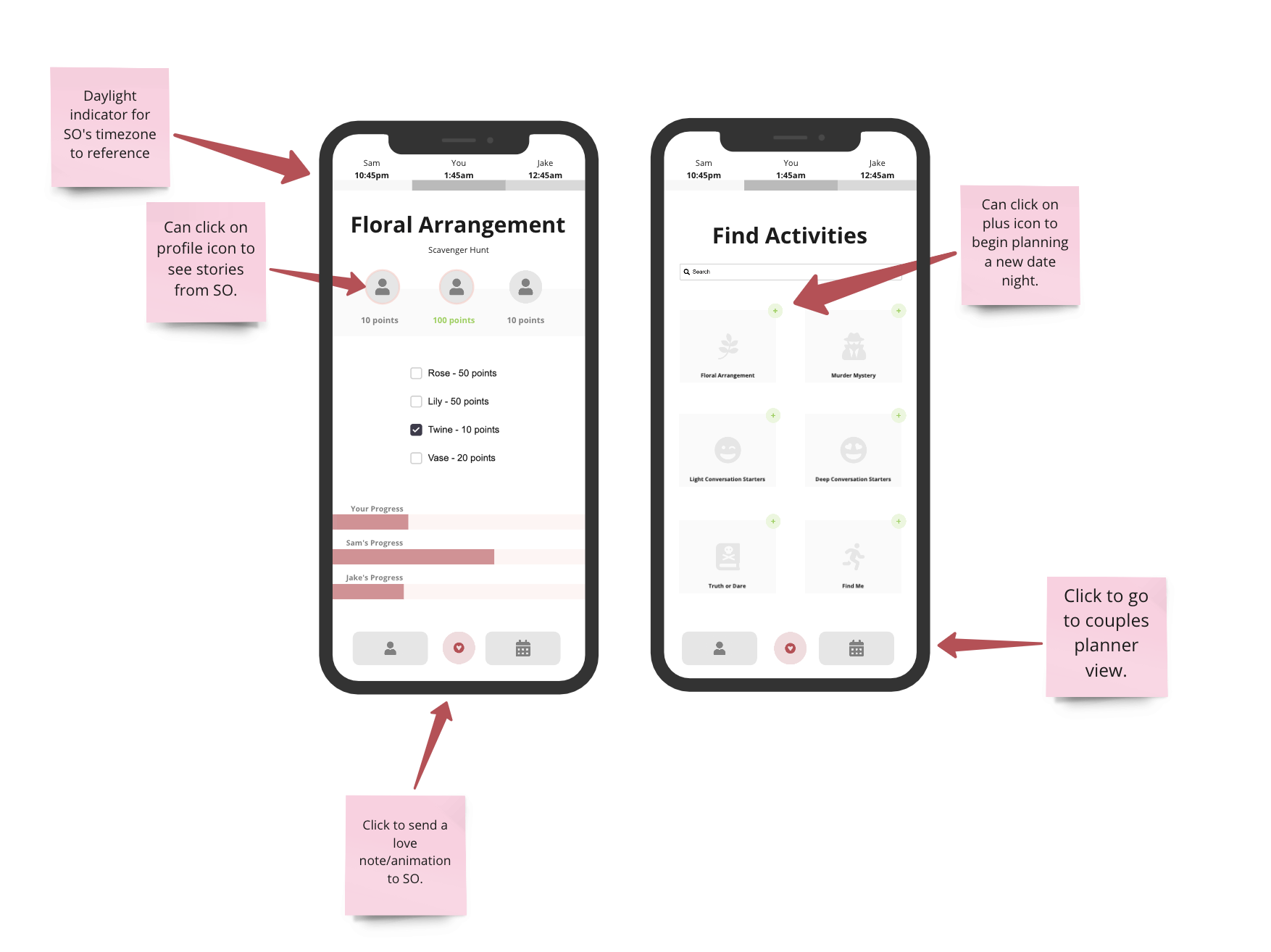 Prototype
Stage Four - Prototype
User Interface Design
Our mobile user interface followed a light and friendly mood. For our personas with anxiety, we kept the platform minimalistic to avoid clutter, which could trigger anxiety.
The style is reminiscent of the Valentine's day candies with cheeky sayings on them. As a Valentines day UX design hackathon and a mobile application about relationships, this felt fitting.
For the final prototype, we used Figma to produce our seven main screens that showcase the wireframes we previously curated.
A key feature that I am most proud of is the time-zone displays above the user profile pictures. I believe that this feature best expresses our understanding for the users most spoken about pain point and seeks to solves it with simplicity.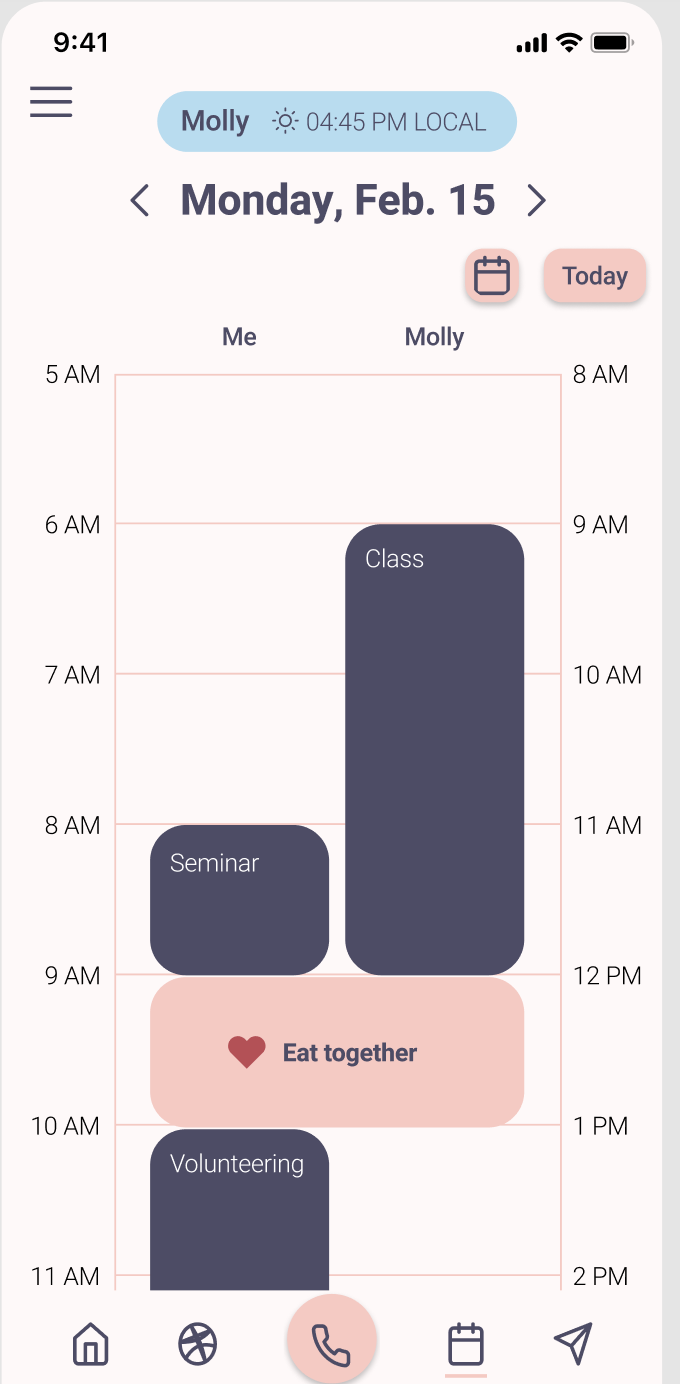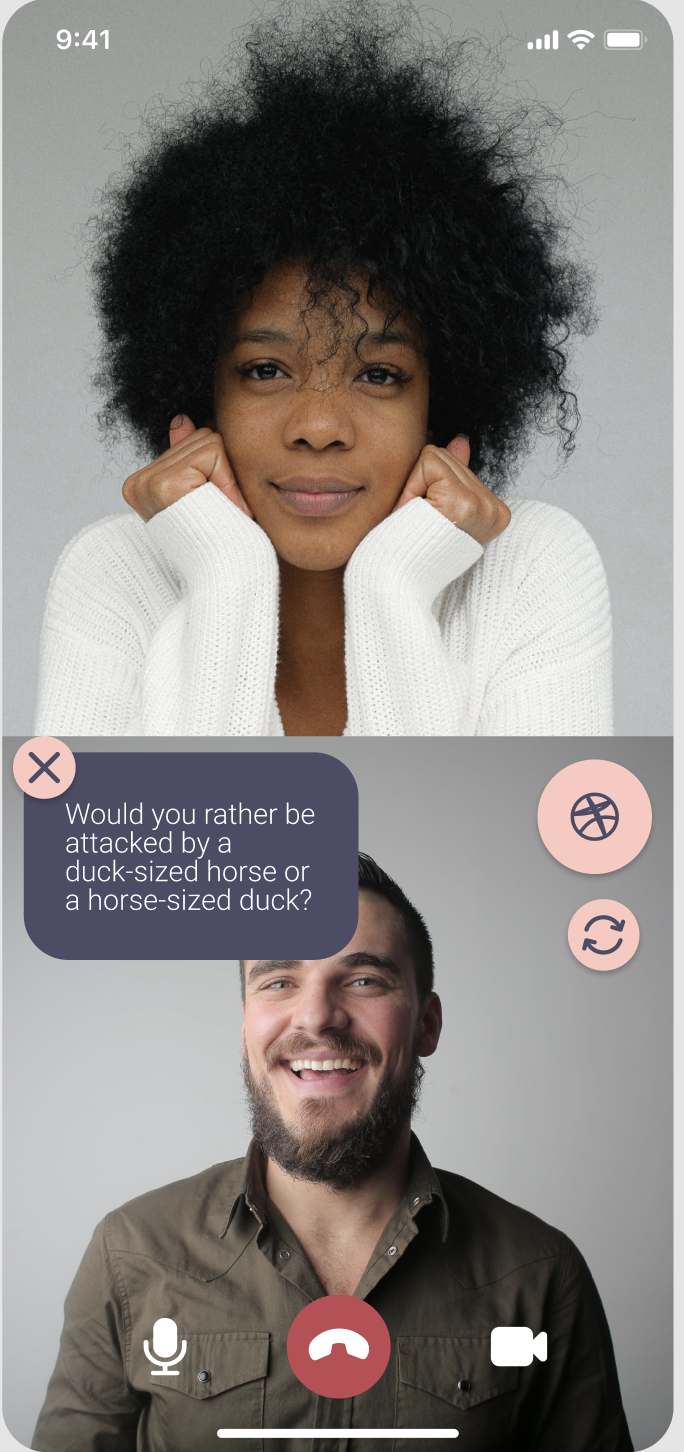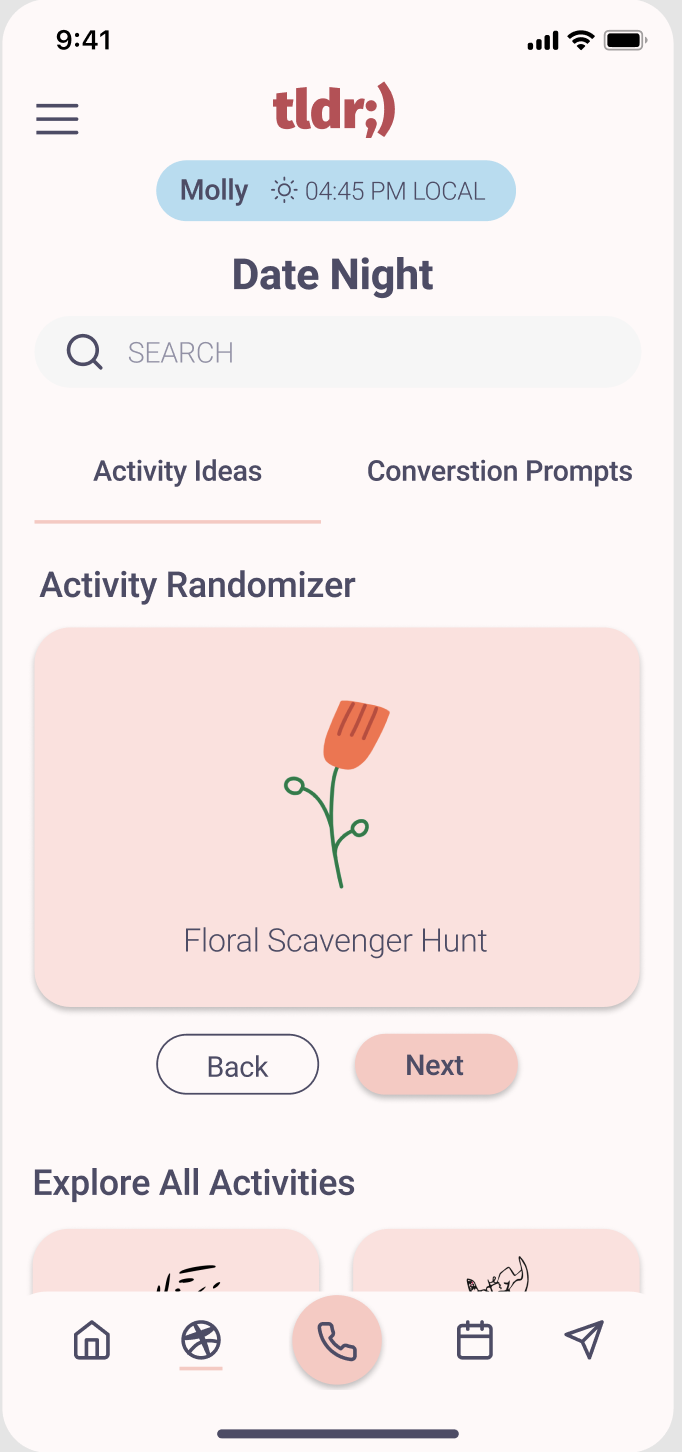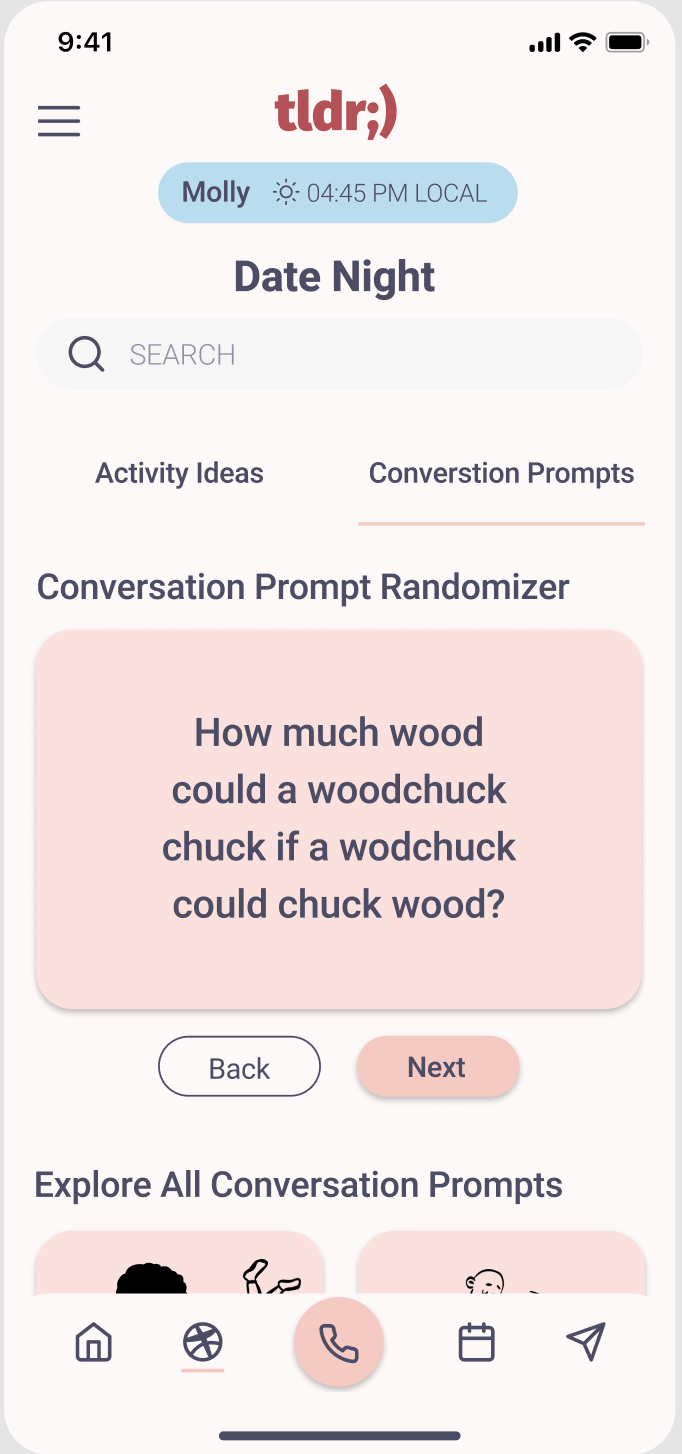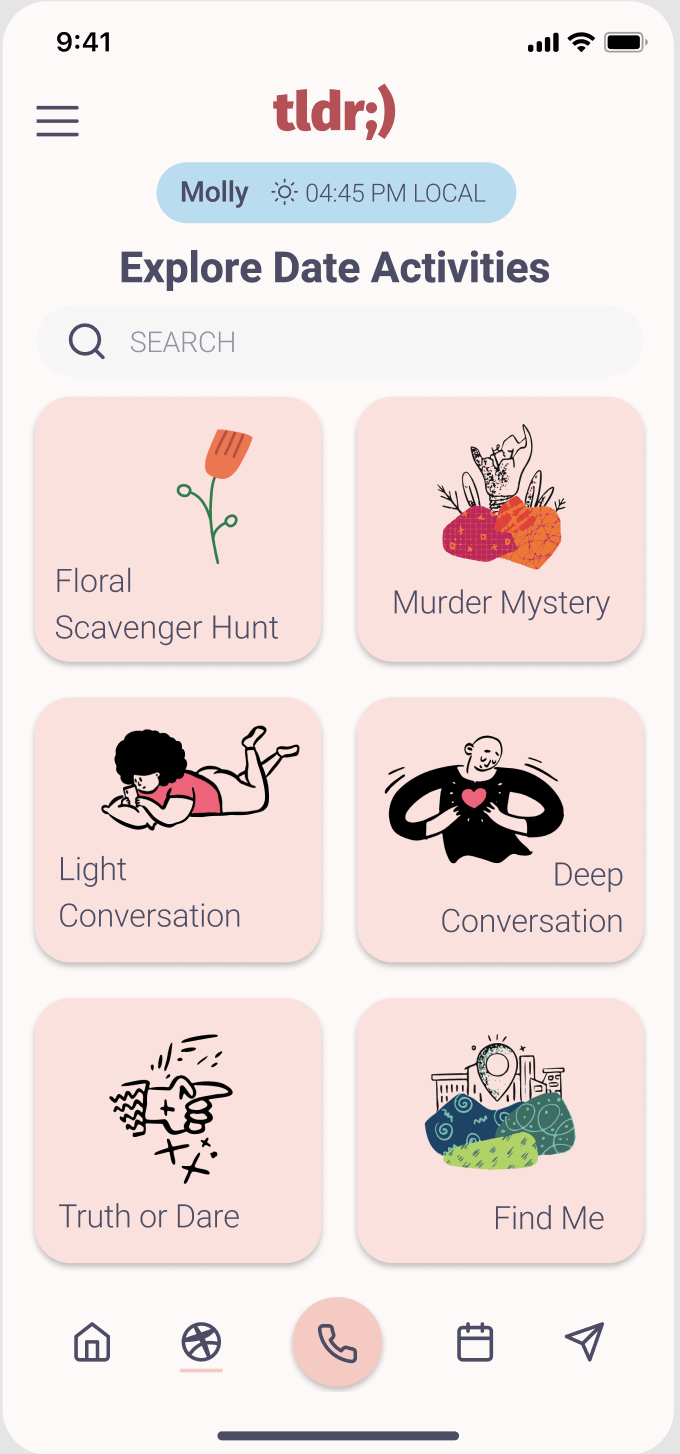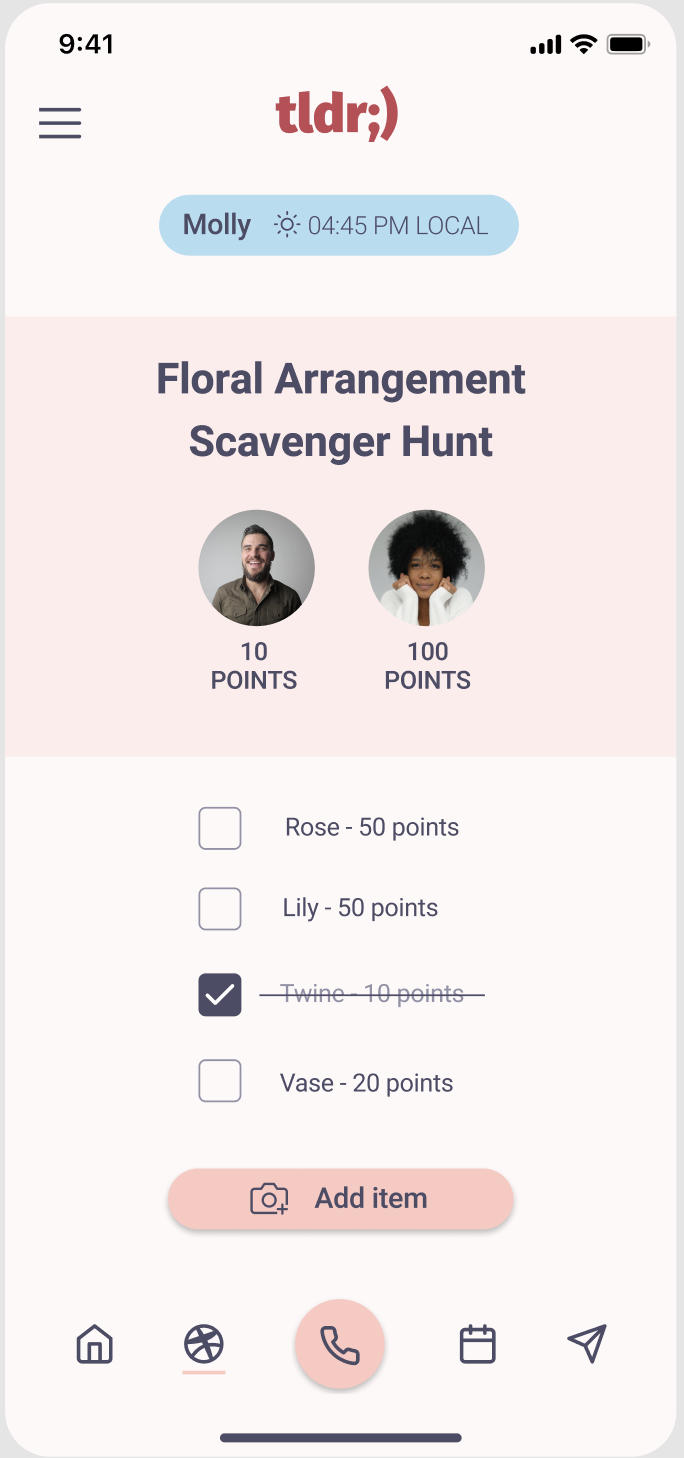 Result / Implement
Stage 5 - Test
Result
To present our process and these main screens to the judges, we created a slide deck that expressed the who, what, and why for our project.
You can view the slide deck that was submitted to the judges here.
The Protothon judge feedback was,"Great work with your user research/planning, and identifying key findings! Loved how many options there are for couples to meaningful time together. I can tell you are empathetic, considerate designers based on your explanations of your design decisions :) "
What I learned from this project
My biggest fear during this project was working with a team of people I had never worked with before. I was nervous that I would not be able to hold my own weight, but that turned out to be far from true.
Two major problems we faced were time-zone differences and the 24-hour time constraint. We also should have assigned more specific roles to each member to champion. I believe that our positive collaborative skills made all the difference.